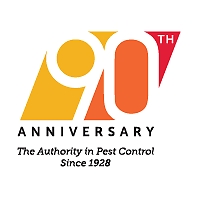 J. Edwin Sameth, founder of Western Pest Services, became intrigued with the pest control business during the depression years. So convinced was he of its high potential that J.E. was able to persuade his parents to move the family from West Virginia's Appalachian country to Newark, New Jersey, where the fledgling pest control business was set up. It was in 1928 when J.E., at the tender young age of 20, sat down with his father, Maurice and 17-year-old sister Ailene to start their new venture in pest control.
The name "Western" was literally drawn from a hat! With that, the Sameth team went to work. A lot of what J.E. learned through the years helped to guide Western's policy for providing quality service. With J.E.'s hard work and planning, the business grew steadily to the success that Western is today.
Being one of the successful pioneers in the pest control business was not J.E.'s only accomplishment. His incredible foresight provided for some future needs of Western and the pest control industry. For example, in 1946 he founded a separate distribution company to provide quality pest control products for a range of pest control operators. The National Pest Control Association (NPCA) selected him as their president for the year 1950-51. J.E. is also one of the original seven founders of COPESAN, which was started in 1956 to allow a regional company like Western to sell large chain accounts throughout the U.S.
Western Pest Services' service offerings were expanded to handle the specialized needs of its various customers. In 1983 the Fumigation division of Western was established. The Company embraced IPM (Integrated Pest Management) as we developed pest elimination programs specific for the Health Care, Schools and Food Processing industries. Pest birds exclusion requires a highly skilled expertise that's part of Western Bird Services. Residential and commercial customers both take advantage of Western's Deck Cleaning and Power Washing services.
These advances, along with our carefully planned growth strategy, made Western one of the largest privately owned firms in the pest control industry. From our humble beginnings in Newark we multiplied our New Jersey locations and expanded to other Mid-Atlantic States in the 1980's. The 90's saw us solidly establish these locations and continue our growth with openings in Atlanta, Georgia and New York City.
The year 2004 marked an era of new direction for Western Pest Services when they were acquired by Rollins, Inc. As a wholly-owned subsidiary, Western has access to even more resources to best serve its customers in the years to come.